Custom Labels/Custom Stickers
Printed Labels (Ink), Foil/Hot Stamped Labels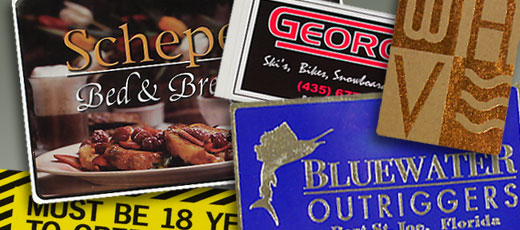 Labels can be as simple or as complex as needed, from one-color ink to full color (four color process) with protective laminates to multi-colored foil stamped labels.
Custom Printed Ink Labels
Custom-printed labels/stickers are essential for many businesses and used every day for branding in retail packaging, inventory management, tamper-resistant security, identity, shipping, legally-required information, safety guides, hazardous material notification, consumer warnings, inventory control … the business use for printed labels is limited only by creativity.
Labels are available on a wide variety of stocks (papers) and delivered to you on rolls (typical) or sheets.
Metallic Foil Labels
Draw Attention with Classic Metallic Labels
Foil labels are ideal for jewelry stores, gift box seals, gift shops, stationery, wedding favors, special events and more, and can be printed, hot stamped/embossed, or both.
Foil Labels: Custom Ink-Printed
Ink-printed foil labels offer a high-end look at an affordable price. Budget-friendly, printed foil stickers are available on a variety of metallic foil label stocks including some that are weatherproof or waterproof.
Foil Labels: Hot Stamped (Embossed)
Shiny, hot stamped foil labels add a touch of elegance to any product. A special process creates an image by embossing instead of ink.
Foil Labels: Embossed and Printed
Get the best of both with labels that combine ink printing and embossing. This combination of raised surfaces and color (ink) never fails to attract customers' attention.
Ink Colors
For ink printing, virtually any color ink is available.
Label Shapes
Metallic foil label stocks include brushed, shiny and dull in silver, gold, copper and others. Standard shapes include oval, round, square, rectangle and rounded-corner rectangles. However, with a custom die we can produce your labels in practically any shape imaginable.
Laminated Waterproof, Weatherproof Labels
Depending on the stock you choose, matte or shiny lamination can be added to make your labels weather-resistant, weatherproof or waterproof.
Short Run/Low-Quantity Labels
Need labels, but in a lower quantity? Have a prototype in production that needs a custom sticker for the final presentation? TC Bag & Label can help. We can supply short-run labels in quantities as low as 100.
ATLANTA LABEL SPECIALISTS!
Many business owners prefer to deal with a local suppler. If you're in the Atlanta area, North Georgia, Savannah or Athens, TC Bag & Label would like to be your local provider of custom labels, bags, boxes and packaging supplies. We've been in business since 1989 and are a trusted source for many retailers and manufacturers.
Contact TC Bag & Label Today